Our program's capstone experience is a team-based project focused on a community-engaged collaboration extending across the program's second year.
During their second year, students are required to complete 12 units of a group capstone project. Groups of students (3-6) will complete a project involving a local partner/stakeholder and organized by CEB to address a current environmental problem, giving the students an opportunity to work directly with practitioners to design, develop, conduct, and implement a project. Group projects must be:
Solution oriented – Projects should yield specific policy or management recommendations, contain multidisciplinary elements, and align with student and partner interests.
Framed by Active Adaptive Management – Group project will be nested within an active adaptive management framework and will include a review of literature and analysis of data.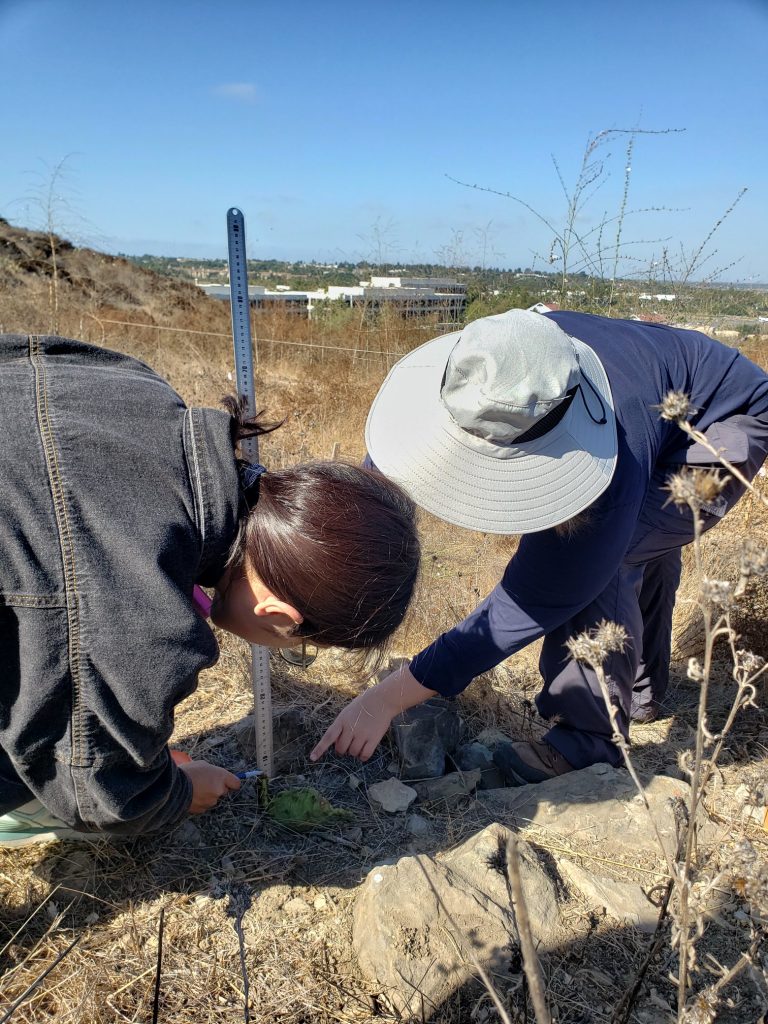 Capstone projects will produce a written document and be presented to the broader community of conservation and restoration science professionals in southern California at an annual workshop in the Spring.
2022-23 Capstone Projects:
Click each project for detailed descriptions:
Beach Wrack Ecology and Monitoring
Beach wrack (kelp and other macrophyte debris deposited on shores) is a key source of nutrients for beach communities, and its presence increases the diversity and abundance of invertebrates and shorebirds, including threatened species. In 2021-2022, an MCRS Capstone team established survey methods and a monitoring protocol for Crystal Cove State Park to track shifts in this important resource and inform decisions about management and restoration. In addition, the team has developed with Crystal Cove Conservancy an educational module for community science data collection on wrack by middle school to college students. This team has also piloted invertebrate biodiversity surveys in collaboration with the Museum of Natural History of Los Angeles. The capstone team for 2022-2023 will build on this foundation of work to continue to study and promote the education of the public about this ecosystem through several of the following possible project directions: 
Field work: a collection of monthly monitoring data on wrack ecology, biomass, distribution, seasonality, and composition of wrack, and extending surveys to include manipulative experiments testing rates of consumption, decomposition, and desiccation rates of common wrack species. 

Implementation of the educational curriculum and community science components of the monitoring program, including promotion to schools and building out educational and promotional resources on Crystal Cove Conservancy's website through the Environmental Challenges Program. 

Invertebrate biodiversity surveys and analysis of DNA barcoding data on wrack invertebrates to determine prevalence of rare and endemic species in the park and put in the context of regional metapopulations of wrack specialist species. 

Shorebirds:  students have access to long-term datasets (and may participate in data collection) on shorebird surveys and nest monitoring at state beaches throughout California to assess differences between groomed and ungroomed beaches.
Impacts of Global Change
Rainfall has become increasingly variable due to global climate change.  How resilient are local plant communities to increases or decreases in water and nutrient availability?  This capstone project will focus on the Loma Ridge Global Change Experiment, in which rainfall and nitrogen have been experimentally manipulated since 2007.  The capstone team will collect physiological trait measurements on plants within the plots and analyze long-term plant community data to evaluate connections between plant traits and response to global change.  Additional analyses could focus on community response to "relaxing" half of the treatments for a period of several years and on community response following wildfire.  There are opportunities to collaborate with the team of microbial scientists who work on the plots, perhaps investigating plant-microbe feedbacks in response to the global change manipulations.
Restoring Healthy Habitats
The goal of this project is to evaluate the effectiveness of restoration for providing healthy habitats.  How do the native plants interact with weather conditions to influence insect and bird communities at Crystal Cove State Park?  How can data collected in the past be used to determine optimal future restoration as part of the adaptive management process?  One goal of restoration is to increase habitat health for multiple trophic levels, yet measurements are rarely conducted beyond the plant community.  The initial objective is to assemble a diverse native community that is resilient to future stressors such as invasion by non-native species and drought. Current objectives are to utilize approaches that address known uncertainty in weather patterns in southern California and guide future management decisions on how to achieve different levels of ecological diversity, stability, and function.  
This project is a collaboration between the Center for Environmental Biology, Crystal Cove State Park, and the Crystal Cove Conservancy.  The aims of the project are to identify best practices for restoring native coastal sage scrub and California prairie habitat through an ecological restoration experiment.  Specifically, the experiment will allow us to: (1) compare the effects of restoration of coastal sage scrub versus California prairie on ecosystem processes such as water and nutrient cycling and biodiversity; (2) measure the minimum required maintenance efforts for California prairie community persistence;  (3) clarify the role of inter-annual variation in precipitation on restoration techniques; and (4) identify the types of species that will be most sustainable in a restored coastal sage scrub community.  The project is entering its fifth year.  The MCRS capstone project will focus on analyzing existing data, collecting any new data necessary to fill in knowledge gaps, and making management recommendations for the site based on results.
Sources of Marine Debris and Gill Nets and Entanglement Impacts On Marine Mammals
Entanglement in gill nets and other marine debris is a major cause of mortality in marine mammals, sharks, and other large-bodied marine animals, including endangered and protected species. Gill nets are large fishing nets made of clear mesh designed with holes large enough for a fish's head to pass through, but not the body, entangling the gills.  Entanglement can prevent proper feeding, constrict growth, cause infection, drown entangled animals, or cause extreme fatigue as animals carry them for miles during migration and foraging. While the United States and California have many policies regulating the use of gill nets and mandating technologies to reduce bycatch, gill nets remain a large source of mortality and injury. Over 200 marine mammals were incidentally recorded as killed by gill nets between 2014 and 2018, likely a substantial undercount. Locally, the animal rescue team at Pacific Marine Mammal Center (PMMC) have observed concerning increases; six gillnet-entangled sea lions were rescued in Orange County in April 2021 alone.  
While NOAA collects information on entanglements by species and fishery gear type, the scope of the problem is not well understood, and an assessment of impacts in southern California or Orange County is needed. This project proposes to aid in adaptive management of marine mammals by examining prevalence and sources of gillnets (and potentially other fishing gear) leading to entanglement in marine mammals through one or more (based on student interest and feasibility) of the following potential project directions:
What is the prevalence of sea lion gill net entanglement? Students will conduct field surveys and analyze camera data to identify and count entangled sea lions at Dana Point Harbor/Marina. 

Are marine mammal entanglements seasonal? Students may analyze NOAA entanglement records for the southern California region for demographics, seasonality, locations, impacts, and debris type. 

Which fisheries are active at the time of year with the most entanglements, and does the type of gear involved in recorded entanglements match the probable fishery? Students may analyze archived entanglement material at PMMC or NOAA records. 

Possible Extensions:

Policy analysis: Many existing policies regulate the use of gillnets; students would research and summarize existing policy, enforcement and efficacy, and write an evaluation of current and proposed future policies. 
Science communication: Results of this study may be developed into educational curricula to be used by docents and educators at the Pacific Marine Mammal Center to educate adults and children about more sustainable fishery methods.
White-tailed Kites Conservation
Local records indicate White-tailed Kites (WTKI) have consistently foraged and nested within open space areas on the University of California Irvine for over 50 years. Unfortunately, the activity and number of nesting pairs have declined dramatically, particularly the last couple decades, both on UC property and in the region more generally. Observations the last several years indicate that the University property is one of only a few remaining areas in Orange County where kites are nesting. Open space lands within UC Irvine include lands enrolled in the central-coastal Orange County Natural Communities Conservation Plan and within the UC Natural Reserve System. To maintain existing nesting pairs, and hopefully encourage additional pairs in the future, the University would like to support research that will inform management recommendations for an Interim White-tailed Kite Management Plan for the campus and immediate vicinity. To understand possible causes and the extent and intensity of decline, a thorough summary of historic data is necessary.  This summary could facilitate subsequent visits to former territories and provide context for the campus populations relative to others in the region. In addition to a summary of historic data in the region, study will summarize knowledge gaps and conduct field studies to gather necessary information to guide future management actions. The capstone group will work with UCI Nature staff, consultants, and volunteers on the White-tailed kite study and development management recommendations. Key questions and tasks, roles, and estimated costs of the capstone group are identified below.
Understand population trends & status based on summaries of existing data.

Identify data gaps

Determine habitat use & monitor birds

Use incidental and trained volunteer observations to assess habitat use in reserves and county (if enough data)

Assist in fitting transmitters to adult birds and in reviewing data and creating a GIS database.

Evaluate habitat correlates- vegetation type, water access, 

Monitor existing nests & assess territory status

Monitor campus nests

Revisit historical nesting territories to determine status

Assist in writing final report & management recommendations
Students will gain experience with bird observation, nest monitoring, GIS, working with volunteers (through citizen science) to collect data, and possibly working with transmitters and potentially small mammal trapping. The complexities of urban wildlife conservation will also be highlighted.
2021-22 Capstone Projects:
Assessment and monitoring shore ecology and kelp forest health through beach wrack
Community Partner: Crystal Cove State Park, Crystal Cove Conservancy Science Advisor: Riley Pratt (CCSP), Holly Fletcher (CCC) Beach wrack (kelp and other macrophyte debris that deposited on shores) may be considered by the public to be smelly and unsightly; however, it is a key source of nutrients for beach communities and its presence increases diversity and abundance of invertebrates and shorebirds, including threatened species. Multiple factors are changing the abundance and composition of wrack on southern California beaches including grooming (human removal of wrack for recreation or aesthetics), declining kelp forests (due to heat waves, pollution, overfishing and disease in keystone species, and other factors), and introduced species (including non-native kelps). Wrack is an underappreciated ecological resource worth studying for its importance to beach health, but may also be a useful indicator for community shifts and processes happening offshore. Crystal Cove State Park seeks to establish baseline data and a monitoring program to track shifts in this important resource and inform decisions about management and restoration. Crystal Cove Conservancy has developed an educational module that has not yet been implemented for 9-12th graders to conduct beach wrack monitoring; this capstone project will adapt existing curricula and community science programs to generate useful long-term data. A second requested deliverable is science communication: to popularize this program, the capstone team will promote wrack to students, teachers, and the community through the creation of videos and media, and promotion at events such as Laguna Beach Kelp Fest. Project components, depending on interest of student participants, may include: a) Field work: collection of baseline data on wrack ecology, macroinvertebrate diversity and abundance, design and implementation of a monitoring program assessing biomass, distribution, seasonality, and composition of wrack, and (possibly) snorkel or boat transect surveys for kelp forest monitoring. b) Shorebird extension: in addition to analyzing collected data, students have access to long-term datasets (and may participate in data collection) on shorebird surveys and nest monitoring at state beaches throughout California to assess differences between groomed and ungroomed beaches. c) GIS/data analysis comparison of groomed/ungroomed sites: Assessment of temporal and spatial changes in kelp forest extent using aerial imagery; potential collaboration with Prof. Brett Sanders (UCI, Engineering) to use drone footage taken during shoreline erosion surveys to assess wrack. 4 d) Science Communication/Networking: One of the requested deliverables of this project is promotional materials to encourage classes to engage in beach monitoring field trips. In addition, students will share findings and network with researchers and managers in the field of beach ecology and the annual Beach Ecology Coalition meeting in January 2022.
Avian Monitoring at the Burns Piñon Ridge Reserve
In the last 50 years, there has been a large decline in the abundance of North American birds. In the Mojave Desert, changes in climate have been linked to a loss in bird diversity and abundance. The Burns Piñon Ridge Reserve, one of the UCI-managed reserves in the UC Natural Reserve System, is the site of a long-term bird banding effort. Since 1989, researchers have conducted bird banding roughly twice per year (in the fall and spring seasons). Birds are collected, identified to species, weighed and measured. When possible, information about sex and age is also recorded. This long-term data set can be used to answer a number of important questions related to bird migration, abundance, and diversity. The MCRS team will have the opportunity to participate in the fall and spring bird banding efforts. In addition, the team will analyze the existing long-term bird dataset along with weather data to address the following types of questions: (1) What is the relationship between weather and bird abundance and diversity? (2) How has the avian community changed through time and with season? (3) What is the frequency of re-collecting birds and what does this tell us about bird migration and lifespan? Possible goals include the identification of species in decline for conservation prioritization and increasing knowledge of avian community structure in response to changing climatic conditions. For abundant species, information on morphology and demographics may be used to conduct additional analyses of population dynamics. Partners include Walt Sakai and his bird banding team, Jan Goerrissen from OCC, and UCI-NATURE.
Evaluation of Stream and Estuary Restoration Performance
Community Partner: Southern California Coastal Water Research Project (SCCWRP) Science Advisor: Eric Stein (SCCWRP) 2 Following Southern California's intensive urbanization and flood control activities in the 20th century, estuarine and stream habitats have severely declined, experiencing a reduction of habitat quality, biodiversity, and overall ecosystem function. Habitat restoration has become a widespread management tool to mitigate this trend; however, there is a lack of understanding about the efficacy of this management action at improving ecological condition. Restoration can differ widely in scope and methodology and may fulfill permit or grant requirements, yet it may not provide a healthy habitat and functioning ecosystem. Challenges in answering these questions include ability to characterize different restoration approaches, accessibility of consistent data sets, and clear benchmarks for defining performance. The Southern California Coastal Water Research Project (SCCWRP) aims to collaborate with MCRS students and tackle this issue by compiling existing data on past and on-going estuarine and stream restoration projects, conducting field and spatial observations to inventory restoration activity in the region, and evaluating ecological monitoring data available in public databases such as the California Environmental Data Exchange Network (CEDEN) and EcoAtlas. Based on this inventory, we will: a) catalogue and classify restoration projects b) propose definitions/benchmarks for restoration success c) analyze available data to determine restoration performance, d) identify data gaps where additional sampling could provide insights into restoration effectiveness e) develop recommendation for future monitoring and assessment. Data gaps will be presented to regional monitoring programs, such as the Stormwater Monitoring Coalition (SMC) or the Southern California Wetlands Recovery Project (SCWRP). Student activities will include data compilation, synthesis and analysis. Where practical, students will collect assessment data (focusing on the California Rapid Assessment Method [CRAM]) at sites prioritized in the data gap analysis. This investigation will create a baseline for measuring restoration success across different projects, guide future data collection, and infer best practices in future ecological restoration and management. This project will provide students with experience in data collection and analysis, habitat assessment, exposure to agency restoration programs, geospatial analysis, and report writing, as well as industry connections and ongoing collaborations.
HAB Monitoring and Effects on Newport Bay nearshore and estuarine habitat
Community Partner: Southern California Coastal Water Research Project (SCCWRP) Science Advisor: Martha Sutula (SCCWRP) Harmful algal blooms are problematic to observe and relate to environmental drivers because they are exceptionally episodic, requiring high frequency monitoring. This proposed capstone project would employ a team of UCI Conservation and Restoration Science Program (CRSP) master students to assist in research investigating the effects of HABs on the Newport Bay estuary and coast. SCCWRP is part of a team of NOAA Integrated Ocean Observing System (IOOS) HAB research institutions along the coast that regularly conduct weekly observation of piers (including Newport pier), with a coordinated and standardized protocol of data collection, including phytoplankton assemblage, toxin concentrations and nutrients. Newport Coast is an important observing location, because it is heavily influenced by anthropogenic nutrient sources from the Orange County Sanitation District's ocean outfall and from point and nonpoint sources of nutrients discharged from the San Diego Creek watershed. Recently, three new initiatives have the potential to leverage this basic weekly dataset: 3 1) NOAA ECOHAB project that is investigating the environmental drivers that trigger HAB toxin gene expression. This project will commence weekly sampling at the Newport Pier, and SCCWRP may be adding to the typical suite of analyses some constituents that are related to toxin gene expression. 2) OPC project to put a flow cytobot on the Pier, in which we will be collecting real time data on phytoplankton composition. 3) SCCWRP internally funded project to develop a couple physical biogeochemical numerical model of Newport Bay that can simulate the effects of algal blooms on seagrass habitat in the Lower Bay. SCCWRP may be purchasing light sensors that could be deployed (by UCI students) to document light limitation that is inhibiting the seagrass habitat in the lower Bay. We propose to use UCI in a combination of weekly field work, laboratory analyses and data analyses on a combination of the above three projects. Students would also attend Southern California Bight stakeholder advisory group meetings to understand how SCCWRP interact with local water quality management agencies to translate science to management.
Post-fire Evaluation of the Resilience of Experimental Communities
Wildfires have been increasing in frequency and severity due to human ignition and climate change. Two experimental and restoration sites in the Santa Ana mountains burned in the October 2020 Silverado Canyon Fire. Both of these sites offer opportunities to investigate how landscape manipulations influence post-fire recovery of vegetation. The Loma Ridge Global Change experiment was established in 2007 and consists of plots of coastal sage scrub and grassland communities in which nitrogen and water is experimentally manipulated. These plots were burned in the Silverado Canyon fire, which revealed some interesting questions related to interactions amongst water and nutrient manipulations and wildfire. This dataset provides an important opportunity to understand the relationship between pre-fire conditions, burn intensity, and post-fire recovery. The Bee Flat Restoration project consists of areas previously dominated by non-native, invasive species that were restored to either native grassland or coastal sage scrub. An effort was made to include a diversity of native wildflowers in the seed mixes used in restoration. This area also burned in the 2020 Silverado Fire, providing a unique opportunity to evaluate the resilience of restored plant communities. The MCRS capstone team could measure species composition in unrestored degraded areas, unrestored intact native areas, and in areas restored to coastal sage scrub and grassland. One important question would be whether the restoration sites have the diversity of native wildflowers post-fire as is frequently found in intact burned areas. Another question is whether shrubs that were planted as part of a restoration project are able to re-sprout and recover at the same rate as shrubs occurring in intact native shrublands. Partners include the Irvine Ranch Conservancy and the Natural Communities Coalition, along with a number of different UCI research labs.