Student Blog: Anna Jullie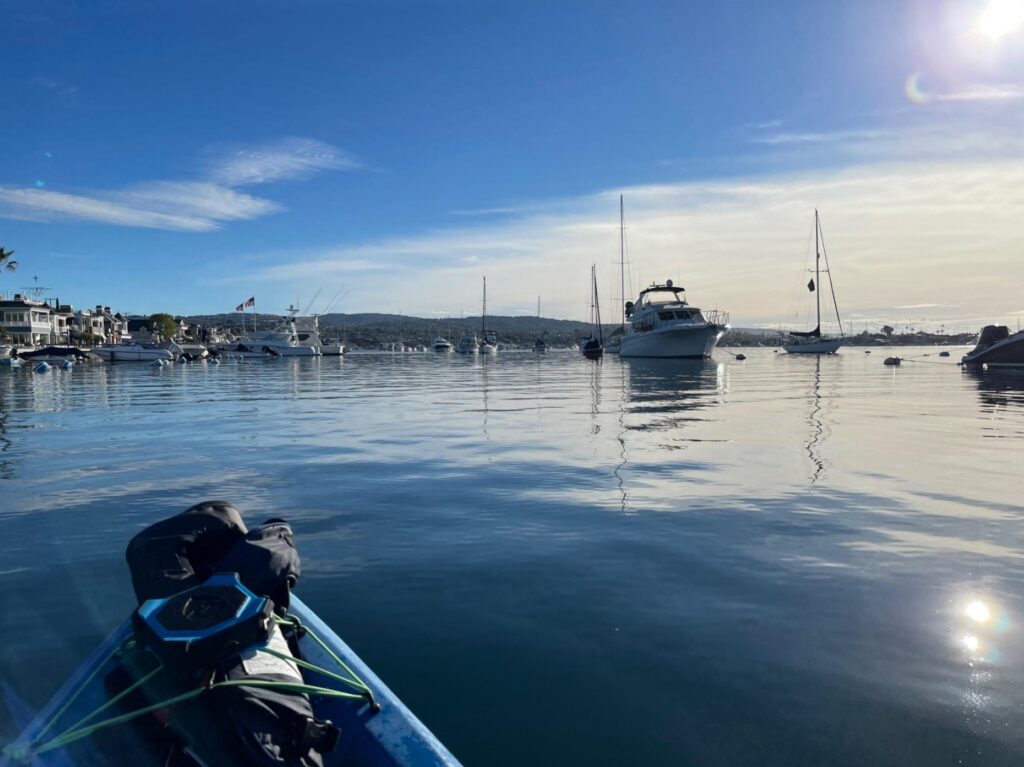 As a young girl growing up in a small town in Michigan, I was surrounded by water constantly. Growing up with "The Swamp " for a backyard, as we affectionately called our own personal wetland, I had a childhood filled with exploration, time spent outside, and curiosity ranging in every aspect of the natural world. I grew up boating every weekend on Lake Michigan with my family; tubing, swimming, fishing, sunset cruises, spending time with friends and loved ones. My school curriculum as a student revolved around invasive species, lake formation, and protection of the great lake water supply. I never experienced a water crisis, as we were surrounded by what seemed like endless supplies of freshwater, abundant rain for gardens and plants, and never having experienced a seasonal drought. My childhood is what set my career aspirations aimed at water in any form, and I filled my college education with internships and experiences as water based as I could.
Since moving to California, I was faced with a culture shock of climate proportions: one ridden with drought, fire, sunshine year-round, and saltwater. At the start of my MCRS career, with a mindset around the former ecosystems I had known, I was intimidated by my lesser knowledge of the local ecosystems and riddled with imposter syndrome in what felt like a very a foreign world. I was concerned and nearly disappointed after my first quarter of coursework revolved around deserts, cacti, and fire, that I made the wrong decision and would not gain the knowledge I was seeking in water resources and management. I feared being pinholed into a field so niched to Southern California, how would I continue to expand my horizons post graduation as I seek to find a new, engaging, and exciting job position?
While these questions intimidated me, I had no option but to continue forward and seek what I desired; learning more about marine ecosystems and specifically a capstone project that provides a space to make a difference. I was lucky enough to take classes and participate in a capstone project that jointly included opportunities to learn and grow in a hands-on environment. Classes provided a space to explore, learn, and grow as a scientist in the fullest capacity. Our class went out to the world with goals of executing science, of taking away some knowledge about the ecosystems we studied, but I was engulfed with experiences that humbled, amazed, and inspired me. We spent time in tide pools conducting research that included biodiversity surveys, species counts, and organism data collection. Settling into a niche of coastal marine biology gave me a sense of purpose that I sought to feel here in Southern California. I felt transformed back to my curious childhood.
My capstone project allowed me to learn about and appreciate the beauty of the Lower Newport Bay ecosystem – enjoying seals, sea lions, dolphins, birds, and fish, while also conducting real world work based on curiosity and protection of water quality. We focused on seagrass ecosystems, and how light penetrates down through the water to the seagrass beds. We collected other water quality parameters, with the goal to understand the differences between stable seagrass beds and the beds that are unstable, maybe only present in an area every other year or less. Seagrass beds provide essential shelter and foraging habitat to leopard sharks, bat rays, California halibut, pacific staghorn sculpin, shiner surfperch, and rockfish in Lower Newport Bay 3. They also provide vital resources in sediment trapping and stabilization, reducing wave energy and coastal erosion, producing vital dissolved oxygen, filtering pollutants, and even trapping greenhouse gasses 2.
Unfortunately, Lower Newport Bay is susceptible to something every ecosystem on this planet is victim to – the anthropocene. Humans have devastating impacts, especially in such highly trafficked areas such as Lower Newport Bay. Impacts such as dredging, boat activity, fishing practices, and shoreline development all have the potential to annihilate the species, ecosystems, and the crucial processes that occur in the bay1. These seemingly innocent activities pose irreparable risk unseen by many.
I am fortunate to be the beginning of hopeful change and data collection, which is certain to kickstart long-term research in Lower Newport Bay. The start of this project will lead to further understanding of what goes on beneath the surface of the water and within the water column, to contribute to future management and conservation as our understanding becomes more full and complete. As we currently focus on seagrass and light attenuation, there are limitless possibilities to expand across the bay, possibly in fields such as harmful algal blooms. I'll always be curious, maybe a little bit pessimistic about the future, but with projects such as my capstone, and several others I've had the pleasure of working on as I start my career in conservation biology, I am able to look forward to the small sliver of the world that I can impact, change, and experience.
References
Kendrick, G. A., Hegge, B. J., Wyllie, A., Davidson, A., & Lord, D. A. (2000). Changes inseagrass cover on Success and Parmelia Banks, Western Australia between 1965 and 1995. Estuarine, Coastal and Shelf Science, 50(3), 341–353. https://doi.org/10.1006/ecss.1999.0569
Moore, K. A., Short, F. T. (2006). Zostera: Ecology, Biology, and Management. In Larkum, A.W.D., Orth, R.J., Duarte, C.M.Page (45(5), 5). Seagrasses: Biology, ecology and conservation. (pp. 361-386). doi: 10.1007/978-1-4020-2983-7_16
Sherman, K., & DeBruyckere, L. A. (2018). Eelgrass habitats on the U.S. west coast: State of the knowledge of eelgrass ecosystem services and eelgrass extent. Pacific States Marine Fisheries Commission, Creative Resource Strategies, LLC. https://www.pacificfishhabitat.org/wp-content/uploads/2017/09/EelGrass_Repo